About Pastor Poju Oyemade
---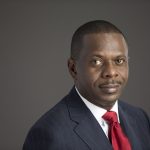 'Poju Oyemade is the Senior Pastor of Covenant Christian Centre, Lagos. The church office is located at 400 Herbert Macaulay Way – Yaba, Lagos. This fast growing church holds 4 services every Sunday morning, with two of those services taking place at The Covenant Place, Iganmu, another at the Yaba Centre and the Family Service taking place at the Covenant Chapel, Lekki.
Midweek service takes place every Wednesday at the Yaba Centre – 400, Herbert Macaulay Way, Yaba, Lagos and Thursday at the Lekki Chapel by 6:30pm . Essentially, Covenant Christian Centre is one church with three centres.
He was called to ministry whilst he was still an undergraduate at the University of Lagos. He was ordained into ministry by Bishop David Oyedepo, the presiding bishop of Living Faith Ministries Worldwide (a.k.a Winner's Chapel).
Pastor 'Poju is a teacher of the Word of faith with insight into how believers can apply biblical principles in a pragmatic and practical way in their daily lives.
This dynamic pastor hosts regular Faith Seminars, Singles' Summits,Annual Conference "WAFBEC", Financial and Business Seminars where believers are taught the undiluted Word and how it can be applied directly in their situations to produce results, God's way.
The Platform Nigeria – Worker's Fair and National Development Fair are also outreaches of his ministry where prominent business men and women (that are believers) share how they thrive in their industries using and applying principles founded in the Bible.
He is also the host of the regular television programme 'Insights for Living' that airs on;
» Silverbird Television: Monday – Friday (6:30am – 7:00am) & Sundays (7:00am).
» Channels Television Sundays (4:30pm – 5:00pm)
» Revelation Channel (UK) on Thursday (8:00pm) respectively.
The Quantum Leap (TQL) is the latest addition to the stable of television programmes hosted by this dynamic pastor, it airs on Silverbird Television by 3:00pm and Channels Television by 4:30pm every Sunday .